Howdy, I'm Vikas 👋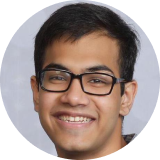 designer, developer, and visualizer Designer of modern software and hardware
Currently: Senior Hardware Designer @ Qualcomm
Who I am
Blocks of text suck, so here are some fast facts:
I was raised in Austin, Texas
I am the loudest and proudest member of the Fightin' Texas Aggie Class of 2020 WHOOP
I graduated with a B.S. in Electrical Engineering, and a minor in Computer Science, Cyber Security, and Mathematics
I'm a full-stack hardware engineer - I have experience in analog design, digital manufacturing (circuit fabrication), digital design and validation, assembly language, kernel development, low-level languages (such as C and C++), and high level languages (such as PHP and JavaScript)
I like learning and making things
I watch a lot more YouTube and T.V. than I'd like to admit
I don't get to spend enough time enjoying life outside
What do I do?

Primary focus: Padring & TLMM
Design and Integration of next-gen SoC components
Hardware automation & scripting
Rate: 😉
About Qualcomm

Infrastructure maintenance & automation
Frontend engineering & performance
API security & design
Rate: Free!
Check it Out
Consultation / Freelancing
Areas of Expertise:
Performance & Security
Automation
Ghost - setup, configuration, etc.
Rate: $60 / hr
Get in Touch
Guiding Principles
I believe that engineers should have foundational principles that drive their decision making. Mine include:
Security - nothing is 100% secure, but that doesn't mean you can settle for 70%
Performance - we live in the age of fast, nobody likes slow
Accessibility - design and implementation should be as inclusive as possible
Minimalism - let the core experience speak for itself. Bells and whistles should enhance the experience
Extensibility - design your product with the expectation that someone will try to modify it to make it work better for them
Happiness - do something that people will appreciate. I personally find happiness in creating and doing things that I know will have a positive societal impact